Dare to Compare: 2017 Ford Fusion | Sauk City, WI
When it comes to sedans, Ford knows best. That's why it stands out when compared to its competitors. Check out why the 2017 Ford Fusion stands out from the crowd!
Efficiency
The Fusion, Accord, and Camry all have impressive fuel efficiency for a midsize sedan. The Ford Fusion does deliver an impressive 34 mpg on the highway, slightly higher than both the Accord and Camry, so that you can go longer without gas station stops.
Style
The Fusion has a style that stands out. While both the Accord and the Camry have an attractive exterior design, the Fusion pushes the envelope even more for a sleeker, sportier exterior.
Handling
The Ford Fusion is known for its superior handling. It'll stand out on the road above the Accord and Camry with its superb cornering abilities.
Safety
You'll be safe when you're behind the wheel of the Fusion. The Ford Fusion got a five-star safety rating in the Front Barrier Crash test, one star more than its Accord and Camry competitors.
Space
Don't underestimate the Ford Fusion when it comes to space. It's got 16 cubic feet of space for your cargo, slightly more space than you'll get with the Accord or Camry.
The below table should make it even more obvious what tremendous value the Fusion offers compared to the Accord and Camry.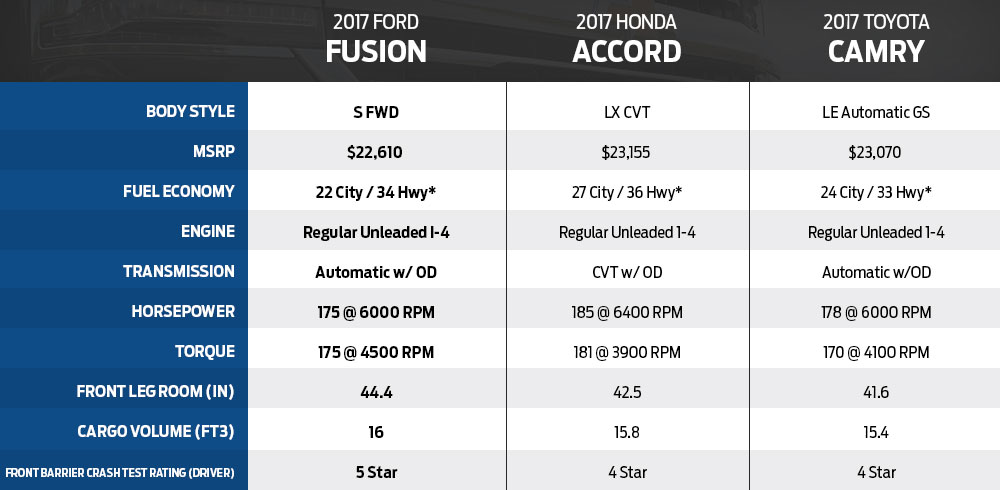 Still curious about the 2017 Ford Fusion? Come to Courtesy Ford of Sauk City today and test drive it for yourself to see why it beats out the rest of the field!
*EPA estimate.