2016 Ford Mustang Spotlight | Sauk City, WI
The classic American pony car is back again and ready to roll! Featuring over 300 horsepower from every engine in the lineup, the 2016 Ford Mustang offers more features, power, and options than ever. When it comes to the muscle car segment, there's only one true model that leads the pack. With its recognizable iconic style, roaring engines, and sheer popularity, the Mustang is that model.
The 2016 Ford Mustang comes stocked with any of the four engines in the lineup. The engine lineup includes the 3.7-liter V6, 2.3-liter four cylinder, 5.0-liter V8, and 5.2-liter V8.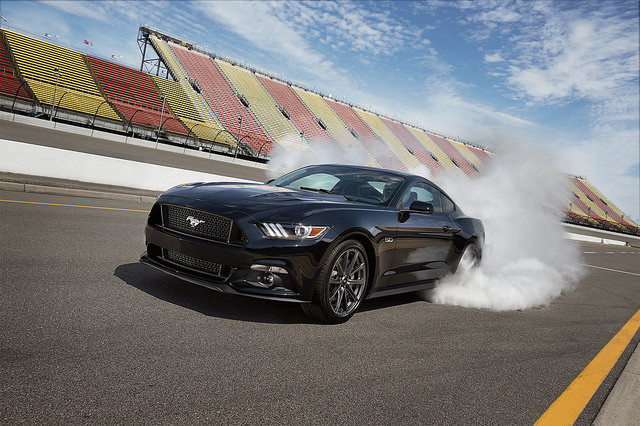 Starting at the least powerful, the 3.7-liter V6 produces 300 horsepower and 280 lb-ft of torque. A standard feature on the V6 Fastback trim, this engine earns an EPA-estimated 19 city/28 highway MPG.
Next up is the fuel efficient 2.3-liter EcoBoost four-cylinder engine. A recent addition to the lineup, this engine may seem small but it packs quite the punch. Capable of producing 310 hp and 320 lb-ft of torque, this peppy engine is a standard feature on the EcoBoost and EcoBoost Premium trims. Earning an EPA-estimated 21 city/32 highway MPG, this small engine tops the lineup in fuel efficiency.
The 5.0-liter V8 engine is quite a jump from the previous two engines, pumping out 435 horsepower and 400 lb-ft of torque. Standard on the GT and GT Premium trims, this is the first track-ready engine in the Mustang line.
Finishing out the line is the 5.2-liter V8 capable of rocking the road with 526 horsepower and 429 lb-ft of torque. Coming in as a stock engine on the Shelby GT350, it can be combined with Electric Line-Lock to improve the feel of the Mustang ride.
For a closer look at the 2016 Ford Mustang, stop by Courtesy Ford today!